Leonid Ivanovich Dobychin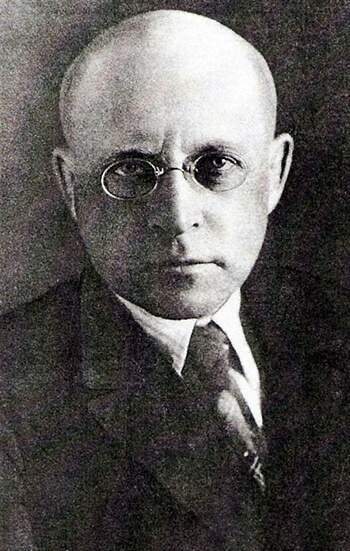 Leonid Dobychin was born in June of 1894 in the Latvian town of Luzin (now Ludza). His father, Ivan Andrianovich Dobychin, was a physician. Soon after his birth the family moved to Dvinsk (now Daugavpils), where Leonid spent his childhood years. Leonid became a writer as an adult, and it was here, in our city, that this impressionable young boy's identity was formed. His major work, The Town of N (1936) attests to this fact: It depicts life in Dvinsk/Daugavpils at the turn of the twentieth century.
Dobychin's literary legacy is a modest one. In addition to The Town of N, only two collections of short stories – Encounters with Lise and The Portrait – were published during his lifetime. However, it was The Town of N, an avantgarde work of literature that in no way resembled other officially-sanctioned contemporary works of Socialist realism, that elicited the harshest censure from the Soviet literary establishment. Dobychin was accused of using a "formalist" literary approach. Scholars believe that it was a public trial, held at a meeting of the Leningrad branch of the Union of Soviet Writers on March 25, 1936 that prompted his suicide.
Dobychin was forgotten during the remaining years of the Soviet government. It wasn't until the late 1980s – early 1990s that his work became an object of scholarly interest. Some 50 years after his tragic death, Dobychin's work received international recognition, due in large part to the efforts of scholars of Daugavpils University. Today, Dobychin's books have been translated into English, French, German and other European languages.
Over the past 25 years, Daugavpils University has become one of the chief centers for the study of Dobychin's works. In that time, the University has hosted 11 international Dobychin conferences and seminars, published 11 scholarly compendia dedicated to Dobychin's work, as well as a scholarly edition of The Town of N, annotated by A.F. Belousov, the prominent Dobychin scholar from Russia.
The study of Dobychin's works remains relevant to the present day; scholars from Europe, Russia and Latvia continue to publish articles on him. His work is the subject of Master's and Doctoral theses, and international conferences continue to be held in his honor.